Posted on
(Photo credit Stacy Keibler)
In the first year of writing my Stylemindchic blog there were several random George Clooney pop up sightings. I promise you it's only because he & I are almost exactly the same age, adore Italy and have some some gray in our hair these days (I mean.... I don't but...but I could if I
wanted
to). Most importantly all my shenanigans make my husband laugh (wink;) and frankly, a little eye candy never hurts.
During our recent getaway to Los Cabos word around the infinity edge pool at Secrets Marquis was that 'allegedly' George Clooney's house was right...next....door....to our hotel. Say What? He had been spotted several times and had even come up to hang out at the hotel on occasion.
I've been coming to Los Cabos for roughly 25 years so I feel like a regular. Naturally I felt it
essential
to be friendly and welcome the new neighbors (Cindy Crawford's home is next door to George Clooney's).
What fun we could all have frolicking on the beach.
It's always good to be neighborly.
Here is a video peek at this caper....


(I will never confirm or deny whether there was a margarita 'rocks/salt' involved in the making of this film)

Here I am in the pool, with a large hat, a little sun and dignity protection.
See sleek white house just down the beach? Yep-that's the one.
Looks like it's time for a casual stroll on the beach. You would too, wouldn't you?



Here is that dreamy outdoor kitchen/lounge/bar I was telling you about. Oh...an evening under the stars could be fun here (with the stars even better;). I hear the fish tacos they serve are to die for. I'm not a paparazzi but I have seen photos of GC and his current steady, Stacy Keibler, hanging out here with their blue golf cart.

Like this one: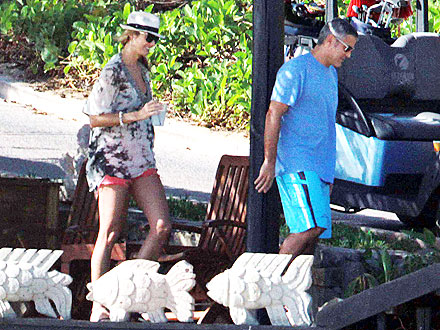 via
Let's keep walking....who knows what we might find?
What's this? Hmmmm the hammock right next to GC's beach house~that could be fun
(but I wouldn't dare, would I? I'm already in deep......)


Perhaps I could just sit here for a moment on George Clooney's beach. By that I mean the public beach in front of GC's home....but a girl can dream. Perhaps I'll even take off my hat and make myself at home.
And here it is~


Me, on the beach at George Clooney's Cabo house (Cindy Crawford's is on the right).
It feels good here #just saying
Here is a close up of Cindy Crawford/Randy Gerber's home. Ahhhhh without disclosing the address (no stalkers allowed) here is this sleek, Mexican Contemporary beach house. Now mind you-we are simply exploring this enchanting style of Mexican architecture by taking these photos. Believe me there are many, many incredible homes on this stretch of beach in the El Dorado Community #takes my breath away.
On another day in Paradise my husband and I rented a car for an excursion. On our way back to the Secrets Marquis we noticed the entrance to the El Dorado Golf & Beach Club.
We were unsure whether it was gated so we made the turn and followed a couple of vehicles in. We saw no gate so we continued....wouldn't you? When I say these villas are breathtaking in their style of luxurious, contemporary architecture with old world details and natural elements believe me. The outdoor living spaces (as seen from the beach) show an abundance of sleek infinity edge pools, outdoor kitchens and al fresco living spaces beach side. #Livin the life!
As we were driving, we were waving (my husband has a thing about that in our gated community at home) and being friendly just liked we belonged. We had temporarily forgotten we were driving our little beater of a compact rental with the words AVIS in huge letters on the back. #Color me red. Did I mention we had ended up following the TRASH truck in? That's why there was no 'gate'. I'm not making a reference to trash truck and our rental car. It wasn't very glamorous and I'm sure we fooled no one.
And suddenly we were at the end of the road..........
the one that leads to George Clooney's house.
And I felt like a stalker, I felt shy, and I said, "Let's get the hello out of here!"
We turned around, a couple more snaps and fled in our little beater of a rental car.
And we followed this blue golf cart..............
Did we actually 'see' George Clooney? I see a blonde ponytail and a blue golf cart.......
you be the judge....we did have a fine little Clooney Cabo Caper.
If you enjoy a good dose of George Clooney, or a little adult humor, you may just enjoy this clip. It's an ad for an adult beverage and very 'tongue in cheek', the humor for which GB is famous. It's a little too neighborly if you get my drift. It was filmed at the beach house above.
All is well that ends well on a beachy vacation.

That's me on George Clooney's beach with my real life 'partner in crime'
who allows me the occasional 'caper'.


here
For more on El Dorado Golf & Beach Club
here
.
Muchos Gracias for stopping by!
Would love to have you join us on stylemindchic.
Besos,
Heather
We are thinking Mother's Day at my boutique!
here